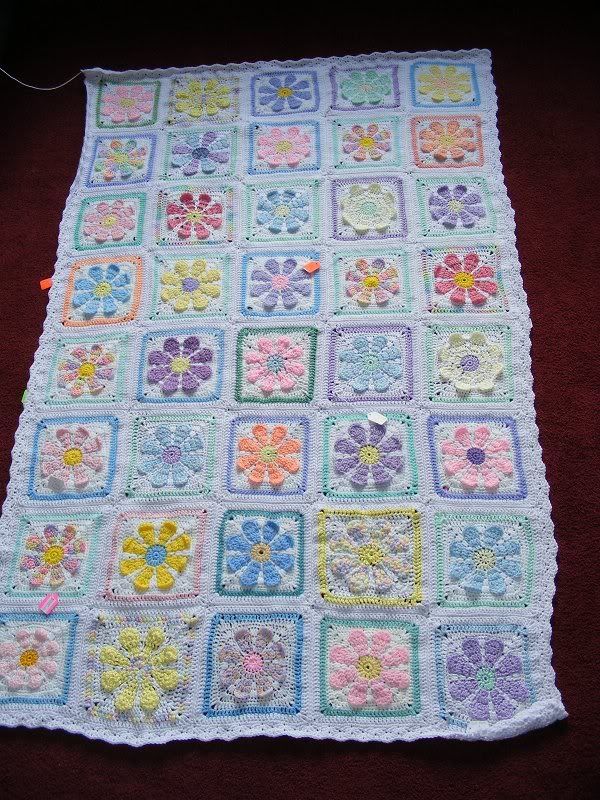 Here is the latest afghan, hot off the presses!
Actually, as you can tell from the yarn at the top corner, I've still got a round or two of border to do, but it's all going to be white, so it won't make much difference in a picture.
Here are the squares in this afghan, thanks to all of you!
| | | | | |
| --- | --- | --- | --- | --- |
| Livingston, TX | Euclid, OH | Divide, CO | Big Rapids, MI | Elkhart, IN |
| Windber, PA | Cedar Rapids, IA | Windber, PA | North Bay Village, FL | Bingham, ME |
| Bolingbrook, IL | North Charleston, SC | Mogadore, SC | Big Rapids, MI | Mogadore, OH |
| Oakland, IL | Tucson, AZ | Elkhart, IN | North Bay Village, FL | North Charleston, SC |
| North Bay Village, FL | Lancaster, CA | Chuckey, TN | Cedar Rapids, IA | Big Rapids, MI |
| Grants Pass, OR | Cedar Rapids, OH | Washington, MI | Oakland, IL | Perryville, MO |
| North Bay Village, FL | Grants Pass, OR | Nashville, TN | Euclid, OH | Mogadore, OH |
| Moji das Cruzes, Sao Paulo Brazil | Euclid, OH | Singapore | Wallaceburth, ONT (CAN) | Cedar Rapids, IA |